Strippers in London Party Buses and Limos with Chauffeur service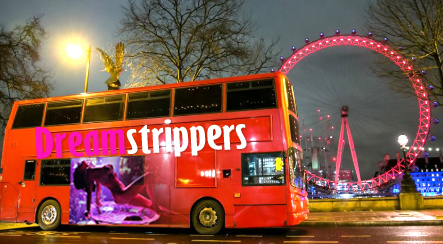 VIP Double Decker bus with fully equipt bar and disco -
ideal for dancing, mingling and stretching your legs with larger groups
Strippers do have the ability to perform inside our London party buses and limos. Party buses can help save money on taxi's, private VIP areas in nightclubs and expensive drinks. You also have the benefit of touring London, going on bar crawls and being uninhibited with booking adult entertainment such as male strippers performing to your own personalized playlist of songs on the bus. A party bus is like a disco on wheels with chauffeur service and personalized entertainment.
A London party bus package can help you save time with queuing, planning, logistics, journeys and entertainment. You have the freedom for unlimited journey's around London without the cost and waiting time of taxis. We organize everything for you so you can concentrate on enjoying your party and looking after your friends.
Party buses and limos have the licence and facility to accomodate your male or female strippers, albeit sometimes in a confined space to manuever and perform a dance routine. The combination is often complimentary for a hen or stag night, especially when the party are on a club crawl around London and fancy being entertained while they are travelling to the next venue.
Our purpose built double decker London party bus is kitted out with large sound system, a disco and blacked out windows. A London party bus for hen parties has the capacity for 66 passengers with additional capacity for 18 passengers standing on the lower deck considering some space is needed for a male stripper to perform. Typically our male stripper's perform for party bus group bookings of between 20-40 girls.
Stretch limousines have the capacity for 15 passengers maximum with one stripper. Be prepared for close contact lap dancing in a confined space if you book a male stripper on a limo. We can arrange free complimentary entry into selected night clubs, venues and strip clubs with our packages.
A typical party bus itinerary might include stopping off at the London Eye and Buckingham palace for group photographs then a bar or club crawl around the West End. Piccadilly Circus and Mayfair are popular area's to stop off on route.
Going away on a hen or stag weekend? Party buses are also ideal for airport collections and drop offs. We also have experience taking hen parties and VIP to private jets and chartered aircraft airports.
Stripagrams with multiple shows prefer to meet where the party bus can stop and park. In major cities we advise congregating at quiet meeting points such as carparks and quiet residential roads. In central London, Regents Park and London Zoo, NW1 offers a convenient meet and greet area away from London's copious traffic, hustle and bustle. From there, parties have easy access to all of London's top attractions and nightlife.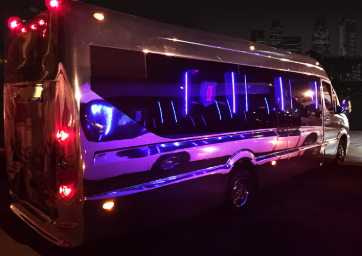 Budget chrome party bus with disco, leather seats and bar
Ideal for:
Hen Party/ Weekend
Stag party/ Weekend
Corporate / staff outing
Travel Transfers
Airport pickups and dropoffs
Fun day out with friends
Popular locations include:
Mayfair London
Gatwick airport
Heathrow airport
Luton airport
Farnborough airport
Royal Ascot
Milton Keynes
Please enquire for our special rates on our vast selection of party buses.
If you wish to travel with your stripper via private jet then we can arrange that for you. Do you wish to have your stripper in another country on a luxury spontaneous trip from the start? No problem, just contact us and we can create an individual package for you.